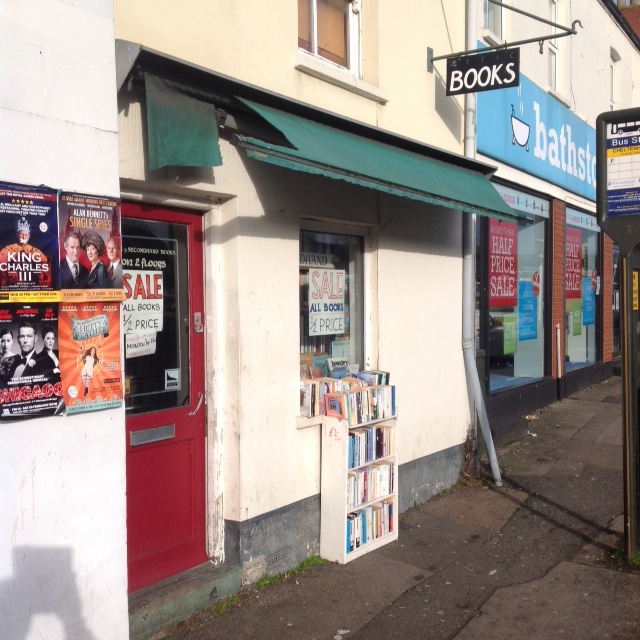 posted on 17 Jan 2016
Attic Books, Cheltenham
Let's start off with the positives. It seems to me remarkable that Attic Books is still out there and doing business. Situated opposite a car park in St. James Street in Cheltenham, the tiny frontage battles to be noticed in an otherwise entirely unprepossessing street that seems to be a bit of a dustbin for the customers of the off-licence two doors down. There's usually a bookcase outside which holds a few bargain paperbacks but once you're inside you realise you're in what is really an old-fashioned traditional bookshop and, if you have the time to browse, some pretty good quality stock.
The shop is strong on literary biography, poetry and history and downstairs by the till there are some collectibles – especially children's books – and sometimes unusual art books here too. The owner is tucked up the corner behind his desk and is chatty and amenable – he's often got the radio on so you can listen to the latest cricket test score if you're so inclined.
Upstairs he has reduced the space recently by closing a room and getting rid of quite a lot of what I'd consider to be tat or shelf-fillers. The one room upstairs is now dedicated to hardback fiction and much of it is quite good modern first edition stock. When we visited there was a 50% sale on which applied to all the books and so we left with some real bargains.
Unfortunately,  there are a couple of negatives about this shop other than its location. It is TINY and very difficult to easily move around. I'm pretty big and I'm also well over six foot and, for me, it's terribly claustrophobic. Instinctively I duck or stoop the whole time I'm in there and, in the back room where the literary biographies are, that's just a necessary survival technique. Sadly, the overall feel of the shop is a bit down-at-heel and the stairs to the first floor can only be described as an adventure.
Few of these little shops have survived the ravages of the recent years on the High Street and so I tip my hat to the fact that this one somehow keeps going. For how long this will be I have no idea – every time I go I'm mildly surprised to find its still open. Despite all the drawbacks to the premises and the location I hope it continues for a bit longer yet.
Terry Potter
January 2016