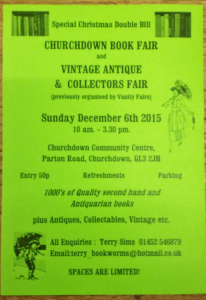 posted on 10 Dec 2015
Churchdown Book and Vintage Fair : 6th December 2015
We were delighted to be back at Churchdown for the last fair before Christmas. On this occasion the books were supplemented by a small vintage fair in the same hall - but kept discreetly apart.
There was a steady trade until the mid-afternoon and we sold books to dealers and collectors alike. It's always hard to judge what is going to sell but this month we did very well with books about Alice and with fashion photography - not sold to the same person you understand!
We hope to be back again after Christmas and the New Year when we'll be replenishing our stock and taking along some stuff that the collectors haven't seen yet....