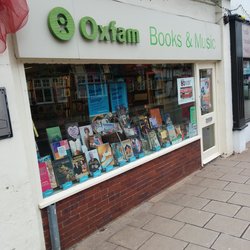 posted on 30 Nov 2015
Oxfam Book Shop, Knowle
On our occasional visits to Solihull in the West Midlands we usually make a point of swinging off the motorway and into Knowle so that we can pay a visit to the Oxfam book shop. This shop is a good example of how to get the bookish atmosphere just about right. It's not a huge place but the space is well used and the stock is all logically laid out. The books on the shelves are, of course, donated but judging by what's on the shelves here, the people of Knowle read some decent stuff - or at least they buy it before giving it away.
There is a substantial fiction section that runs the length of one wall and a good smattering of that is hardback and most of it is excellent condition. They have recently moved the teenage fiction in as a section attached to this adult stuff and I'm not entirely convinced that it works but that might just be a question of personal taste. There is a very well stocked history section and the usual art, literary criticism and poetry /drama sections. Down the centre of the shop are troughs of records and c.d.s and a couple of glass collectibles cabinets posted at the end nearest the door.
At the far end are children's books, sociology, politics and the like. Many of the larger children's picture books are in a free-standing display unit in the middle of the floor and these are at a child-friendly height so that they can be easily grabbed by small hands. Opposite the children's books is a case of older stuff that is marked as antiquarian and collectible or old and interesting but which, in my experience, are rarely of that much interest. The shop clearly isn't a place where you'll find the old and genuinely rare but what you will find here, however, is really good class reading copies and interesting modern first editions which are not in the top rank of collectibles but may well be ones that will add to your collection.
The staff are kindly and efficient and always ready with a warm welcome and the general ambience of the shop is positive. You would probably struggle to pick this out as a charity shop if you didn't know in advance that it was and this is a tribute to how well they have captured the spirit of book retailing.
Definitely worth a visit if you're in that neck of the woods.
Terry Potter
November 2015