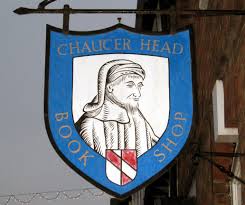 posted on 19 Nov 2015
The Chaucer Head Bookshop, Stratford Upon Avon
The Chaucer Head Bookshop feels quite an old-fashioned place. There's lots of dark wood, the shelves are mighty and loom over you, space is at something of a premium. Located in a very characterful old building in Chapel Street, this is just about the last true second hand book shop left in Stratford - although there are a couple of dedicated charity bookshops in the town. I have been visiting Stratford for many years and I can remember well when there were enough book stores to make a day trip last a good long time. So hats off to Chaucer's Head when everyone else has been giving up the ghost.
The entrance to the shop is unusual - a side entry has room for shelves which are used to house reading copies of hard and paperback fiction - most of the stuff there is of little interest to a collector but would interest someone looking to try out something without making too much of a financial commitment. Inside there are collectibles but they tend to be unrealistically priced in my opinion and the range and quality is very limited.
There is a good section dealing with literary biography and quite a lot of space given over to what are usually called literary 'classics' - but I can't believe the turnover of these is very rapid. A back room has children's books that occupy a whole corner and end wall. The stuff here is mid-range, not especially collectible but servicable.
Don't expect to find much here by way of bargains but you will find decent, solid stock. The welcome isn't overly warm and the atmosphere in the shop can, for some reason, be a little oppressive. I don't go often and, when I do, I don't really expect to come away with too much. This is a shop that requires you to travel more in hope than expectation.
Terry Potter
November 2015
(Photo: Jonathan https://www.flickr.com/photos/suchnone/2178366350)