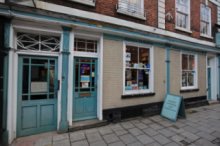 posted on 03 Nov 2015
Alison's Bookshop, Tewksbury
​This is an immaculately kept independent book shop - from the beautifully clean and well decorated outside, double front to the bright and light interior. As you enter the new release hardbacks are immediately on your right, set out face forward with plenty of space allocated to each title. Keep walking towards the back of the shop and you'll find paperback fiction.
Children's books are also on the ground floor and they are given plenty of shelf space and there is always a really good selection - hardback as well as paperback. Clearly children's books have a good status here and there's no hint that they've been hidden away - which is a problem in some shops that seem to find the colourful chaos of the children's section a bit of a trial.
Go up stairs and there are a number of inter-linked smaller rooms with some of the more specialist topics and a good music section. The shop also specialises in  greetings cards and there are racks of them liberally spread around. What I really like is that these cards have been so well chosen; there must be something here for you.
The welcome is always friendly without being intrusive and you will get served efficiently and with genuine courtesy. If I've got one criticism of the shop it's that the selection of hardback fiction is pretty limited. It seems that the shop has a policy to only keep a back catelogue of paperbacks once the new release in hardback has been sold and, for me as a collector, this is a bit of a disappointment but I can understand why this might be a sensible commercial decision for a shop like this sited where it is.
Tewksbury isn't a big place and this shop is only a few doors away from a very good second hand book store. Given that there is also a specialist charity book store in the same run of shops, it makes a visit to Alison's well worthwhile.
Terry Potter
November 2015
( photo: google maps   https://www.google.co.uk/maps/uv?hl=en&pb=!1s0x487102af9978e5a9:0xd5331ec017103c8!2m5!2m2!1i80!2i80!3m1!2i100!3m1!7e1!4s//geo3.ggpht.com/cbk?photoid%3DZQXiML9xGQIAAAQZaexoKQ%26output%3Dphoto%26cb_client%3Dsearch.LOCAL_UNIVERSAL.gps%26minw%3D0%26minh%3D176!5salison%27s+bookshop+tewkesbury+-+Google+Search&sa=X&ved=0CGcQoiowCmoVChMI05322Pf0yAIVwmw-Ch1MAwmb)