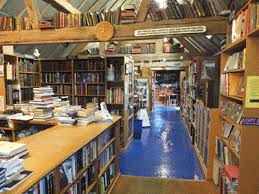 posted on 20 Oct 2015
Astley Book Farm, Bedworth
Let's start with a statement of the obvious - this place is HUGE. The book farm is quite literally that - a massive book shop housed in what must have been old farm buildings and located in a delightful rural setting. This does make the place a bit difficult to find on a first visit but I can assure you that, for entirely good reasons, once visited it wont easily be forgotten.
I've been going there for quite a long time now - almost from it's very early days -  and its impossible not to be impressed by the amount of money, time and effort the owners have put into this venture. You can see their love for the place everywhere - nothing is skimped or second-rate and the place has an almost homely feel despite being cavernous. I love the fact that the place is kept warm and welcoming because it would be so easy for the place to be exactly the opposite and in the hands of some booksellers I have known in the past this book farm would be a giant ice-house.
Needless to say, the stock is also huge and covers just about every conceiveable topic. Most of the collectibles are in the front of the shop near the giant counter and I've often picked up something interesting from their rare section. Elsewhere the books are in very good condition and if not collectible they are excellent reading copies and the emphasis is on hardbacks rather than tatty paperback emphemera.
Over the years they have added some genuinely delightful touches - a children's book loft, a customer toilet decorated with Pan paperback jackets and an excellent coffee shop. The coffee and cake option has become increasingly popular and I hope people now make this a venue as a coffee shop/meeting place. There's also a 'get rid of it cheap' out-building which they call the 10 bob barn where, as you might expect, all the books are 50p.
This bookshop is a case of you have to see it to believe it. Just go there and you'll be hooked - I've lost count of the number of people I've recommended this place to. I just wish I lived a bit closer. In fact I just wish I could live in the place!
Terry Potter
October 2015
(photo: www.visitnorthernwarwickshire.com )