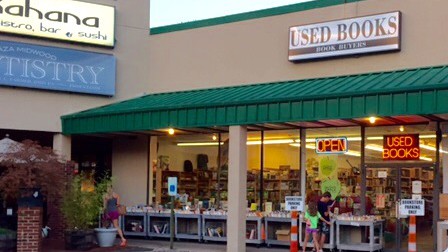 posted on 07 Sep 2015
Book Buyers  Charlotte, North Carolina, USA
Welcome to Charlotte, North Carolina. What a great place. A growing, modern, funky city with so much going on. You'll find fabulous art galleries, museums and heritage centres in the city and outside of the centre there are lots of great cafes, bars and restaurants with unique character. It's a place of culture and a place that loves its literature – the children's library is worth a visit in its own right and The Green in the heart of the city is an oasis of sculpture, fountains and quotations from Southern writers. Go there and sit and watch the world go by.
Surprisingly, Charlotte is not over-endowed with bookshops – second hand or new. Book Buyers  is tucked away in the shops of the Plaza Midwood area and has a modest frontage topped off with the unmissable  'used books' neon sign. Don't be fooled by the rather down-beat presentation – it's a more than serviceable bookstore that seems to also double-up as a cat sanctuary. I'm personally a bit old-fashioned about these things because for me books and animals don't mix well together but you'd have to be exceptionally hard-hearted not to acknowledge the kindness of the impulse to take in strays and waifs.
Inside the stock is general and wide-ranging and kept in decent condition – there are no piles of unsorted books and not too much seems to have been on the shelves for too long. There is a relatively modest section dealing with collectible editions ( we picked up a very modestly priced signed, first edition Maurice Sendak) but, on the whole, the books are modern and unremarkable reading copies.
I like browsing US book shops and seeing if I can find UK editions of interesting books at decent prices but I was quite surprised to find that virtually everything was in US imprints and quite a lot of them were book club editions. The ubiquity of the US book club edition is always a bane because just when you think you've found something interesting, it turns out to be book club. Once you know their characteristics it's relatively straightforward to spot them – and there's nothing wrong with one as a basic reading copy – but they aren't the real thing and they just don't do the business.
Make the shop one of your treats on any trip to Charlotte. I would guess you'll come away with something and if you're gasping for a bookshop experience, this will help quench your thirst.
Terry Potter
September 2015