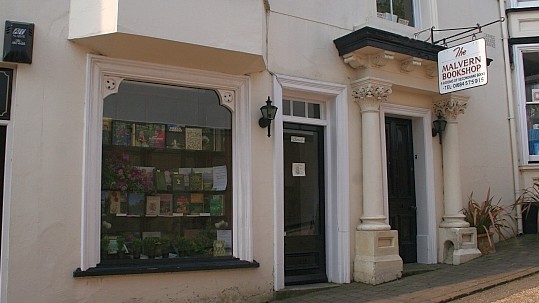 posted on 31 Jul 2015
The Malvern Bookshop
(Photography by Bob Embleton (https://commons.wikimedia.org/wiki/File:Blooming_Hills_2008_-_Malvern_Bookshop_-_geograph.org.uk_-_819151.jpg#filelinks) )
The Malvern Bookshop is almost perfectly sited - occupying a place in the small characterful right-of-way that links the top of the town to the marvelous and picturesque Malvern Abbey grounds. Ancient and magnicient trees shade the path down through the abbey towards the bottom of the town  and on to the theatre. When the sun is shining, it simply couldn't be more scenic. The fact that the shop is also in old and characterful premises helps give you the feeling of stepping back in time - this could be a bookshop visit from the 1950s rather the 21st century.
Despite the fact that the shop has recently changed hands and there has been a gradual turnover of stock and some internal reorganisation of the upstairs rooms, much remains essentially the same. You wont find a computer on the desk ( it still doesn't trade on the internet) or an electronic till and you still can't pay pay using a credit card - cash rules here. Downstairs as you enter you will find the proprietor ( or some willing helping hand) facing you from behind a desk with some more desirable collectables tucked away on the shelves and in a small glass fronted cupboard that's actually quite difficult to get to.
Books line the stairs to the upper rooms. The upstairs landing is looking a bit cramped at the moment with new unsorted stock, modern first edition (but pretty common) fiction and relocated Folio and Classics jostling for space. In my opinion, most of the 'classics'  should be shipped out because it's very hard to see who is going to want that stuff. Hopefully the upstairs rooms will get a bit of an overhaul from the new owners because the shelf space isn't being well used and some fresh stock would liven things up considerably. There is an especially disappointing Children's Books section which really does need a critical eye on it. The amount of decent children's stock amounts to little more than a shelf I would guess once the fillers have been taken out.
The side corridor upstairs has cheap and popular fiction on the wall and would again benefit from some judicious weeding and some fresh stock. I'm not really sure what belongs there and what belongs in the modern first editions section - it's sometimes hard to see how the books are being organised between them.
The shop is losing some space because living quarters are being constructed upstairs and this will put a premium on making sure that the remaining space is used well and that some of the, frankly unsaleable, ballast is got rid of. Because, despite the drawbacks I've mentioned here, this is a really charming shop and it's great news that the retirement of the previous owners didn't result in its closure. It's my home town bookshop and all I can do is wish it well!
Terry Potter