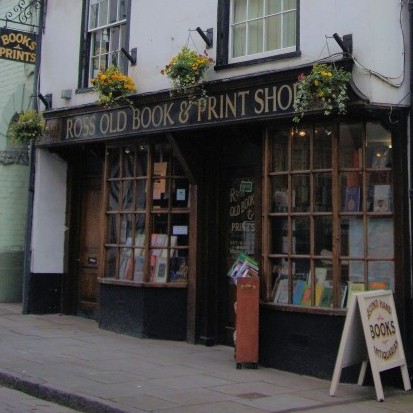 posted on 31 Jul 2015
Ross Old Books in Ross-on-Wye
I always enjoy a trip to Ross Old Books and I try to go every two or three months to check out what's new. The stewardship of the shop  has changed fairly recently and has reverted, I think, to being run by proprietors who had run the shop some time ago and so I guess that over time the balance of the stock will shift from what I'm used to - and that's not a bad thing at all.
The shop specialised in history of all kinds - social, economic, local - and also had a strong fine and creative arts stock. Poetry and literary biography and criticism were well represented but the stock of modern first edition fiction was always quite weak and, in my opinion, a little over-priced. The children's section was not one of their strengths and I think the previous owners would acknowledge that this was not one of their specialisms. I have already noticed some changes in the balance of the books on sale and I'll be interested to see how that plays out as old shelf stock shifts and new material is bought in.
One of the popular areas of the shop has always been the £3 book space at the back of the shop. One of its great appeals was that this was not a dumping ground - it was well organised, had genuine bargains and clearly had a rapid turnover. The last time I went to the shop this section, although reduced in size, had been retained but I've no idea whether this is a longer term commitment or something that will be allowed to wither away.
Partly what makes the trip to Ross OB such a pleasant experience is the building itself and the warm welcome you get. The shop is in a characterful old building that almost screams 'traditional old bookshop' at you but inside it's always neat and tidy. No mountains of moldering old books on the floor blocking your access and thoughtful shelving decisions that highlight the subject areas, so its easy to navigate. Whoever is on the desk is always pleasant and civil and gives you the impression you are welcome - not something all book shop owners seem to think is a positive set of skills.
If you haven't been there I recommend a trip. The opening hours are regular and predictable so you are unlikely to travel in vain and, if the sun shines, Ross is a perfectly pleasant place to spend a casual day.
( Photograph by Jim Linwood https://creativecommons.org/licenses/by/2.0/ )
Terry Potter     July 2015