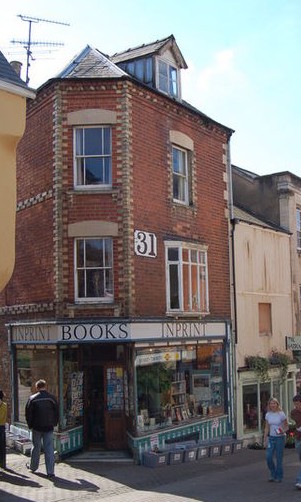 posted on 31 Jul 2015
Inprint Book Shop in Stroud
I think Stroud is a bit of a Marmite place if my informal soundings are anything to go by - some people seem to love it and some people are puzzled by it. I can see that in must be a bit of a sleepy old place in the week and that maybe on a rainy Wednesday it doesn't exactly get the pulse racing. However, I like to visit on Saturday when the town is taken over by it's farm produce/crafts market which tumbles through the narrow streets and it's squares bringing a real buzz to the place.
Once I've had a trawl around the market stalls and stuffed my face with free samples (that's my cheese ration for a month ), I always like to head for Inprint Books at the top of the town. I think I would describe Inprint as a book shop for discriminating buyers. This is the place you'll find interesting books in generally great condition and often at fair but higher end prices. Essentially, you get what you pay for.
The shop is small and so there's no room for clutter and the stock is pretty selective and some of it is not really in my area of interest. They do however stock some good collectible children's literature and illustrated books of all kinds. Music and photography is well represented too and it's always nice to see a good section of photography books because so many shops stock a small, generally useless section tucked away at the end of 'art'.
There's always a nice friendly vibe in the shop and the choice of music on offer is often worth the visit in its own right. I think a lot of thought goes into the window display and I'm always intrigued to see what they are showcasing there - I often can't afford the really good stuff but, hey, I can dream can't I?
( photograph by Graham Thomas https://commons.wikimedia.org/wiki/File:Inprint_Book_Shop_-_geograph.org.uk_-_425310.jpg )
Terry Potter  July 2015