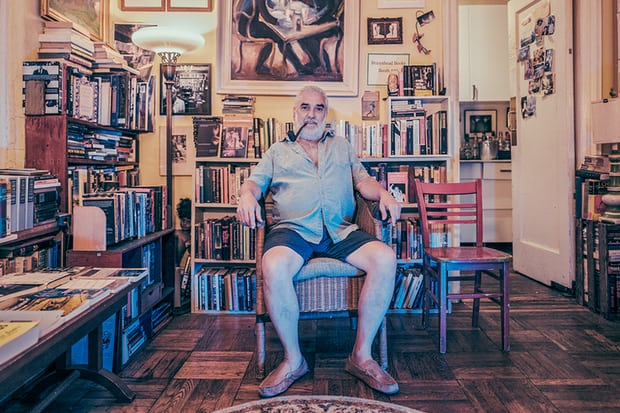 posted on 11 Jun 2018
A story of survival: New York's last remaining independent bookshops
This article has been published in The Guardian. It begins:
With small traders struggling to stay afloat, writer Philippe Ungar and photographer Franck Bohbot travelled across the Big Apple to meet 50 indie booksellers in their habitats.
Years ago, a friend invited me to something called Brazenhead Books, only she didn't call it that. She, like everyone else, called it "the secret bookstore". Except it wasn't a bookshop so much as a small apartment on Manhattan's Upper East Side, deliriously overstuffed with paperbacks and presided over by a bearded guy named Michael Seidenberg. On certain nights Seidenberg, who exudes a maverick ingenuousness, might open up his treasure cave for late-night salons where a bottle of whiskey is generally understood to be the entrance fee. Perhaps a couple of books will be exchanged for a few dollars (I once bought a bright green, 1969 first edition of Renata Adler's Toward a Radical Middle from him for about five bucks) but sales aren't really the point. In a city like New York, a place increasingly beholden to money, it's good to be reminded that there are other forms of currency. Not just the civility of a bottle of bourbon, but those other, priceless currencies, too, the ones that New Yorkers don't like to invoke because they all sound embarrassingly earnest: community, human connection and the preservation of knowledge and ideas.
You can continue reading the full article on this link to The Guardian