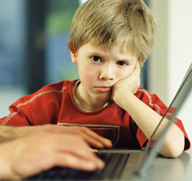 posted on 20 Sep 2017
Parents shun storytime for screen time, study shows
This article has been published in The Bookseller. It begins:
Parents are spending four times the amount of time engaging with screens as they are reading to their children, research has revealed.
A survey by the reading charity BookTrust has shown that adults are spending more than 1.5 hours with computers, phones or other types of technology, as opposed to 25 minutes they spend reading with their children.
The poll of 2,000 parents of four to 11 year olds also revealed that half of parents confess to either frequently skipping pages when reading with children, finishing reading the story before the end or refusing to read a second story. Of those who admit to skipping pages, half (49%) did so because they were too tired.
You can read the full article by clicking on this link to The Bookseller