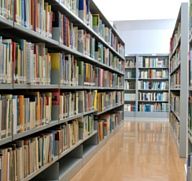 posted on 02 Mar 2017
Libraries 'crucial' for the nation's engagement in literature, says RSL
This article has been published in The Bookseller. It begins:
The role of public libraries is "crucial to sustaining and building engagement in literature", the Royal Society of Literature has concluded from a survey conducted with Ipsos MORI and published today (1st March). Meanwhile, 11% of respondents said they expected to read little or no literature in the future.
Local libraries were found to be one of the top-three contributing factors for what would most likely encourage more reading of literature, according to the survey of 2,000 people in the UK. While 18% of respondents said more local libraries would encourage them to read, 26% said more recommendations would help, while cheaper books were urged by 21%. However, the latter two needs could be satisfied by libraries, the RSL pointed out, given librarians' role in helping people to choose their reading and free accessibility of books removing financial barriers. 
You can continue reading on this link to The Bookseller