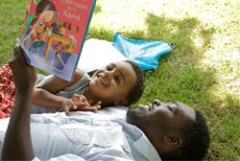 posted on 10 Sep 2016
New research from The Book Trust flags importance of quality time reading as a family
The Time to Read campaign launches on September 8th 2016, encouraging families to read together more - as research shows people are getting stuck in their 'bubbles'.
The research from BookTrust reveals that almost two-thirds of parents of primary school children worry about a lack of shared family time.
You can read all the findings here on The Book Trust  website.