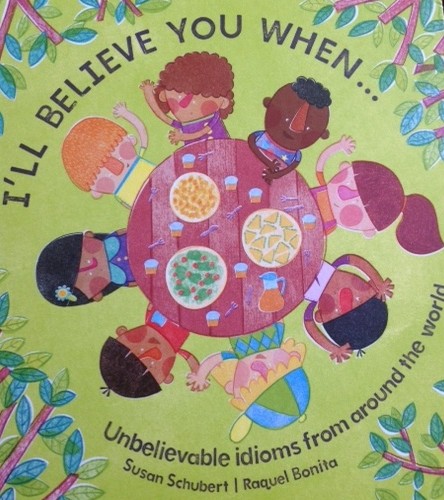 posted on 17 Sep 2020
I'll Believe You When.... by Susan Schubert and illustrated by Raquel Bonita
This book is subtitled 'Unbelievable idioms from around the world' and author Susan Schubert has pulled together 'a rib-tickling collection' of sayings that express disbelief or astonishment.
You're almost certainly familiar with expressing your doubt about whether an event will take place by saying it will only happen 'when pigs fly' but do you know what they say elsewhere in the world in similar circumstances? No? Well then, this is the book for you.
It opens with the following exchange:
"Do you see the dragon?"
"Dragon? What dragon? I'll believe you when….."
And to no-one's surprise our first response is 'when pigs fly' but what would they say in Spain?
"…when frogs grow hair!"
Or maybe in Nigeria:
"…when chickens have teeth!"
I personally have two favourites from elsewhere across the globe. I want to go to The Netherlands where they say "…when cows dance on ice!" or to Russia "….when the lobster whistles on top of the mountain!"
As always with these beautifully produced books from Lantana Publishing, this is a work of art but in addition it's also a gentle educational tool as well as an whimsical entertainment.
Raquel Bonita is a Spanish born illustrator now working in the UK and her drawings use colour and shapes in quite a naïve way – children will immediately identify with her drawings. What looks on the surface a very simple style is in fact brilliantly judged for the audience its aimed at.
At the end of the book the author has a page given over to a straightforward and simple explanation of what an idiom is and how they work in our language and that's a nice little touch I think.
Published this week, you should be able to order this from your local independent bookshop or you can go direct to the Lantana website and buy it there.
Terry Potter
September 2020
(click on any image below to view them in a slide show format)