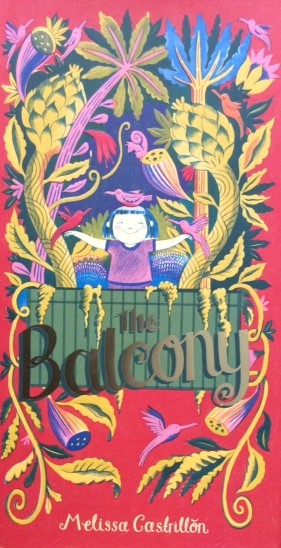 posted on 13 Aug 2020
The Balcony by Melissa Castrillon
Sometimes I pick up a book and my jaw literally drops – this is one of them. I could see it waiting for me on a high shelf in the rather lovely little independent Warwick bookshop and I knew it was destined to be mine. A lot of this was about the appealing cover design showing a beaming little girl framed by ornate heraldic type flowers in deep yellows, pink and blue against a soft red background. As I lifted it down and turned to the first page – I was well and truly hooked.
I have written before about the special power of books that have no words. A story told just through illustrations liberates the reader to interpret the unfolding narrative and to linger over the details. Of course, all books have jacket blurbs so I knew the gist of this story which is about a girl who is making her garden an important symbol for a new and better life, but I could have guessed this from the pictures.
And the pictures are indeed breath-taking showing clear stylistic influences from renowned artists like Eric Ravilious and Edward Bawden. Melissa Castrillon is an internationally acclaimed illustrator who uses blocks of colour from the same palette as the cover that are then carefully etched. The first double page spread fills the space showing a red post vehicle travelling towards a cottage that nestles in the hills with the towers of the city in the distance. The image is framed by trees and this near symmetry is repeated in the design of subsequent pages. In this way the reader is able to enjoy a carefully restrained and orderly world, at least that was my response to the design. A review from Publishers Weekly describes the atmosphere of her illustrations very succinctly:
'Castrillon's images convey an underlying tranquillity that carries readers along.'
There is plenty of dense colour used throughout the book and considerable use of cream space for balance, white would have been far too harsh. This also contributes to a retro feel about the story which adds to its charm.
I flicked through the pages whilst in the shop but knew that I needed to savour each one slowly once I got home. Let me give you a few examples of the delicious pages. The postman has brought a letter offering the mother a new job in the city and both parents seem to be delighted. But when they break the exciting news to their daughter, she is devastated- so much emotion expressed on one double page spread.  Once they have arrived in the city and move into a top floor apartment, the colour palette is restricted to pink and blue which adds to the initial feeling of claustrophobia.  Planting some seeds in a pot offers some hope to the little girl. As soon as the seeds have started to grow, ochre is added to the colour palette and then deeper pinks as she begins to cultivate an impressive garden. I loved the way that her plants are shown tumbling off the balcony to reach down to the apartment below and make a connection with an appreciative neighbour.  I also enjoyed the double page spread that shows her blissfully reading her book whilst sitting in a hammock surrounded by a jungle of blooms. All ends happily with a street festival and plenty of new friendships to make living in this strange new place enjoyable.  
I have only given a flavour of this enchanting book with its beautiful attention to detail, varied page layouts and sumptuous design. I strongly recommend buying your own copy for  all that love to get lost in magical storybook worlds.        
Karen Argent
August 2020
(Click on any image below to view them in a slide show format)