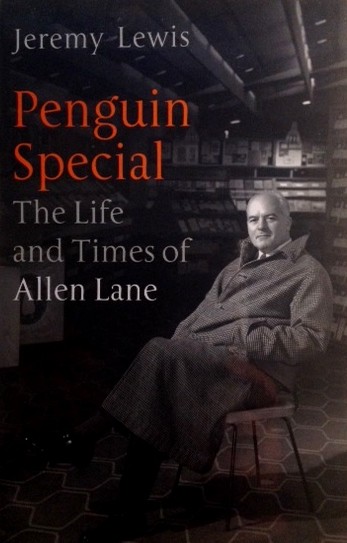 posted on 08 Mar 2021
Penguin Special: The Life and Times of Allen Lane by Jeremy Lewis
Although this biography badges itself as 'the life and times' of publisher Allen Lane, it's a claim that's actually a bit misleading. This is in fact much more a biography of a much-loved and much-admired brand -  and the ideas, incidents and circumstances leading up to and involved in the creation of an iconic cultural phenomenon.
It really should't come as too much of a surprise that this book focuses more on the conception, incubation and eventually triumphant flourishing of Penguin books - with all its myriad off-shoots and sister-brands - than it does on the life and personality of the progenitor, Allen Lane. The author, Jeremy Lewis was, after all, something of a legend in his own lifetime inside the world of books and publishing and his evident fascination with the intimate story of the book legend of Penguin fits perfectly.
Lewis, who died in 2017 at the age of 75 – twelve years after the publication of Penguin Special – was, according to Dan Franklin of Jonathan Cape:
"one of the last old style publishers, a veteran of Deutsch and Chatto in their heyday. He was a delightful, funny, gentle man, who loved gossip, a good lunch and a literary party."
Lewis's background helps to explain the relish and forensic dissection of Allen Lane's career and the birth of the Penguin book. For those of you who are as much of a bibliophile as I am, you'll find the blow-by-blow account of Allen Lane's early career at The Bodley Head and his subsequent epiphany about the latent demand for paperback versions of the best literature has to offer absolutely fascinating. But maybe for those with less interest or tolerance for such detail, this biography probably won't provide you with sufficient domestic drama to make the 400 or so pages worth the effort.
But let's be honest,if you're not intrigued by the politics of the publishing world – the conflicts and petty jealousies, the highs and lows, the development and addition of new lines that fly away to success or belly-flop to quiet failure – then you probably wouldn't have picked this book up in the first place.
Peter Conrad, writing in The Observer when the book was first published in 2005, perfectly captures the way Allen Lane created a brand that would come to be a cultural cornerstone of British life:
"Penguin was more than a corporation; like the BBC, it seemed in its heyday to be an estate of the realm, a synonym for integrity and uncompromising standards. Jeremy Lewis also compares it with the National Health Service, another 'benign monopoly' that enshrined the idealism of its begetter. Allen Lane, who left school at the age of 16, resembled John Reith and Aneurin Bevan in his belief that people deserved the best and, like them, he found a way of supplying it at an affordable price."
I grew up reading (and selling) Penguin Books in all their different guises – Pelican, Puffin, Peregrine – and I can personally attest to how deeply they enter the bloodstream once you've been infected. When I look at the cover of a Penguin book it has the same impact on me as Proust's infamous Madeleine biscuit – I'm whisked back, not just to the time and place in which I purchased it but to the state of intellectual excitement that discovering these books generated in me.
I have Allen Lane and his collaborators to thank for those indelible memories and this book about a book obsessive written by a book obsessive for book obsessives has been a perfect lockdown read.
Terry Potter
March 2021