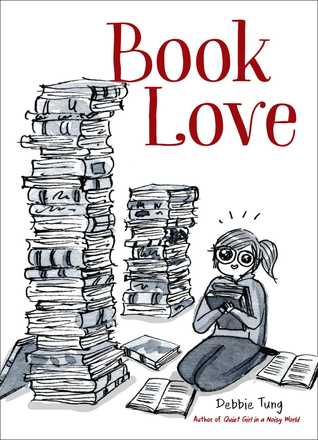 posted on 16 Mar 2019
Book Love by Debbie Tung
Birmingham-based cartoonist, Debbie Tung has brought together a collection of her comic strips that 'capture exactly what it feels like to be head over heels for hardcovers.' This pocket-sized volume initially looks like it might be a graphic novel but it isn't – the pages (and just occasionally double pages) are essentially stand-alone cartoon episodes but they clearly relate to each other by their common theme of book obsession.
If you like your books to be a substantial meal this might not be the book for you – it's not a plate of meat and potatoes that needs some chewing over. But if now and again you like to skip the starter and main course and go straight to the sweet, you'll find this is the confection that you're looking for. It's a collection that will appeal to teenagers who are just beginning to discover what its like to fall in love with books and to adults who have been living with the addiction for many years.
What is especially refreshing is that Tung is producing cartoons for book-lovers who don't need their foibles explained or excused but celebrated. There aren't piercing insights or gritty nuggets of truth here but what you do get is a knowing nod and wink to your own weaknesses and your sometimes inexplicable behaviour when it comes to book reading, book buying and general bibliomania. For initiates in the world of book mania, the truth is that our book obsessions aren't world-shaking but rather they ripple gently through our world, moulding and shaping everything we do. We are what the great chronicler of book collecting, Nicholas Basbanes calls 'the gently mad'. Debbie Tung knows that and she's one of us.
There's no behaviour depicted and gently satirised here that a bibliophile wont recognise but it has to be said that many of them will raise nothing much more than a shrug of recognition and, maybe, a wry smile. But then, every now and again, you'll find one that cuts through and speaks to you and which has an extra dimension of significance - then you'll find yourself nodding with recognition.
The publishers blurb and the few reviews I've seen on line seem to be promoting this as a 'gift book' – something for the book lover in your life. I can see why – it has inoffensive present written all over it - but I can't help but feel that this rather patronises Tung's emotional revelations. Light and frothy it might be but I'd like to think it does do something very few people ever seem to -  to try and not just understand a bibliophiles book behaviour but to be unapologetic about it. I think Tung would understand me if I said to her 'Hello, my name is Terry and I'm a book addict'…
Terry Potter
March 2019