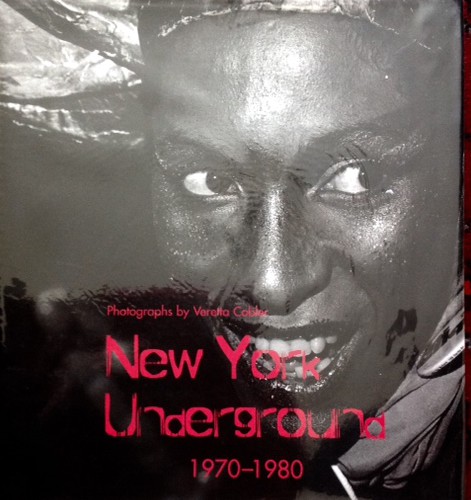 posted on 19 May 2018
New York Underground 1970 – 1980 by Veretta Cobler
Early in the 1970s, unnoticed by lots of people, the old pop and rock establishment was starting to be challenged by a musical underground that would take two very different developmental paths. One would be a home for the dispossessed and angry – punk – and the other would reject the dismal social and economic depression and embrace hedonism – disco.
In New York, fuelled by an increasingly confident and visible gay community, disco was becoming a sensation that would be quickly embraced by the mainstream. But, before that happened, there was the best part of a decade when you had to be seen in the clubs of New York to be considered part of the in-crowd.
The names of these clubs have become legendary – Circus, Xenon, The Paradise Garage and, of course, the daddy of them all, Studio 54 and these are the places photographer Veretta Cobler (usually known just as Veretta) frequented to capture not just the characters but the excitement and abandon of these clubs where literally anything went.
What Veretta has captured here though is something more poignant because these years turned out to be something of a final fling before the hedonism had to take a back seat with the arrival of a disease that struck terror into the community – AIDS. At the time no-one was really sure what this mystery illness was but it seemed that a death sentence was being spread by liberated, unprotected sexual intercourse within both the hetero and homosexual communities - and the consequential victim of the paranoia it created was the disco club.
In truth, however, it may well be that places like Studio 54 had actually run their course in any case. Their elitism and the exclusion of anyone not deemed beautiful or outrageous enough to grace their dance floors was already raising hackles amongst those who found themselves unaccountably shut out. As Veretta notes:
"On any given night of the week by 10.00 pm people would be gathering outside…The doorman, a sexy male bodybuilder guarded the entrance and selected who would be permitted to go behind the velvet rope. Even being famous was sometimes not enough to gain entry…On a freezing cold and snowing New Year's Eve in 1977, the group Chic, performance guests of Grace Jones, was denied entry by the doorman. They were so aggravated that they wrote a song with the line "aaaah, fuck off!". To publish it, they had to change it to "aaahhh freak out". The record, Le Freak became the third biggest single in musical history."
What's been captured here in black and white photographs is a moment in time that can never be repeated and which, even now, still has the power to shock and amaze. Veretta's approach was to just put herself and her Hasselblad out there and follow what happened:
"I photographed the New York club scene from 1977 to 1980. The location of the parties that I attended changed constantly, as did the theme and costuming. Not frequenting any particular club, I simply followed the invitations."
What you'll find in these pages are visceral close-ups of beautiful people and some not so beautiful exhibitionists – sweaty, glitter-covered and always perverse. If you prefer the clean and wholesome this is most certainly not the book for you but if you want to feel as well as see what this moment in time might have been like to live through, you'll be enthralled.
Terry Potter
May 2018
( click on any image below to view them in a slide show format )