News
United we read: Writer roams a fractured nation with 52 books (or more) in 52 weeks
posted on 14 Jan 2020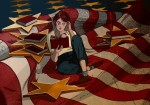 Last summer while watching the first Democratic presidential debate, I realized I had become a stranger in my own country. As the candidates argued over healthcare and immigration policy, I wondered how one party could have become so internally fractured, to say nothing of an entire nation.
But isn't this the process, or spectacle, of politics? Perhaps, but this time felt different. It occurred to me how little I knew of a person's lived experience in Ohio or Montana, or even Arizona some 200 miles away.
That night, I set myself a reading project.