News
The Bad Sex in Fiction Award is a highlight of the literary year, but doesn't all sex in books make us cringe?
posted on 01 Dec 2019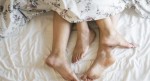 Booker Prize, Pulitzer Prize, Nobel Prize: not interested. The highest accolade in the world of letters will be awarded on Monday, the Literary Review's Bad Sex in Fiction Award. As ever, I can't wait. Titillated, you could say.