News
Walter Scott Prize launches search for favourite historical novel
posted on 09 Nov 2019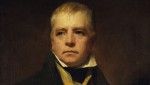 A search has been launched to find readers' favourite historical novel of all time.
It is part of celebrations of the 10th anniversary of the Walter Scott Prize for fiction in the Borders.
The public is being asked to nominate their favourite novel written in English and set at least 60 years before first publication.