News
Ernest Gaines, acclaimed author and Louisianian, dies at 86: 'He loved Louisiana'
posted on 08 Nov 2019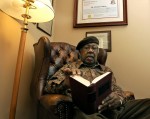 Ernest Gaines, the acclaimed author who drew inspiration from his impoverished upbringing in the rural South, died Tuesday morning of natural causes at his home near New Roads. He was 86.
Raised on the plantation he and his ancestors worked in Pointe Coupee Parish, Gaines went on to pen eight novels and several short stories, earning him a nomination for the Pulitzer Prize for his 1993 novel "A Lesson Before Dying," as well as several other literary accolades.
His 1971 novel, "The Autobiography of Miss Jane Pittman," was made into a TV film starring Cicely Tyson.