News
Artist with autism writes book to help others 'get the help they need'
posted on 09 Sep 2019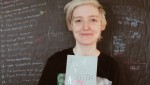 A woman has written a "brutally honest" account about being diagnosed with autism later in life in the hope others will "get the help they need".
Charlotte Amelia Poe, 30, discovered she had the condition when she was 21 as she said "no-one ever went back to basics".
She said her book, How to be Autistic, would have changed her life if she had read it as a child.