News
What Is a Beach Read, and Why?
posted on 01 Jun 2019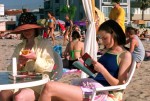 I remember vividly receiving my first piece of real luggage at age 8: a massive duffel bag on wheels that was supposed to evoke Lindsay Lohan's cool-girl character Hallie Parker in The Parent Trap, who carried a trendy, neon-yellow bag to camp and was admittedly a personal idol at the time.
Alas, instead of packing a deck of playing cards and contraband junk food, I left for summer vacations with a bag full of books — hardcovers. I was thatkid. As I was too young to plan ahead for reading anything that wasn't purely pleasurable, I fell into a habit I maintain today of packing only the fun ones: the beach reads.