News
John Boyne hits back at critics of transgender novel
posted on 01 Jun 2019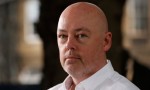 John Boyne, the author of The Boy in the Striped Pyjamas, has hit back at those who criticised him for writing about a boy struggling to cope with the transitioning of his sibling.
Boyne's new novel for young readers, My Brother's Name is Jessica, was attacked on social media and the novelist was criticised for writing about an issue with which he is unfamiliar.
But Boyne told Hay festival that was the point. "I've always said the worst advice you can give to young writers is write about what you know," he said. "Write about what you don't know. If we only write about what we know, it's all biography.