News
Did Ernest Hemingway copy his friend's ideas for Cuban classics?
posted on 13 May 2019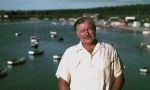 One was a Cuban newspaper reporter working to support his family and writing fiction in his spare time. The other was one of the world's most famous novelists who came to Havana in search of inspiration.
New research shows that the themes and style in the writing of Enrique Serpa, a little-known Cuban author, find an echo in the works of Ernest Hemingway, who wrote some of his most notable books while in Cuba in the 1940s and 1950s.