News
Officials quietly banned prisoners from receiving used books through the mail. Outcry is now drawing concern in Olympia.
posted on 14 Apr 2019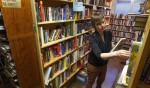 State corrections officials' quietly implemented ban on prisoners receiving used books through the mail did not stay quiet for long.
The state Department of Corrections (DOC), which posted the new policy online last month, says the ban is necessary to reduce contraband flowing into the prisons.
It drew little notice until a Seattle nonprofit that has been sending used books to prisoners since the 1970s discovered it last week.