News
Compact library launched for commuters at Berkswell station
posted on 10 Feb 2019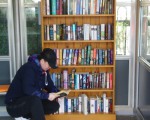 A new compact community library has opened for passengers at Berkswell station. 
The initiative has been launched by station adopters from The Berkswell Society, who hope to engage with travellers and create a warm welcome for commuters.
Over 150 books are now available for passengers to freely borrow or keep. People are also encouraged to donate used books in return to keep the shelves stocked with a fresh offering.