News
Chevalier's 10th and 'finest novel yet' unveiled
posted on 11 Jan 2019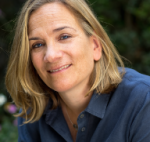 Tracy Chevalier's 10th novel, A Single Thread, will be published by Borough Press in September, two decades on from the break-out success of Girl With a Pearl Earring.
Borough Press acquired two books, for UK and Commonwealth excluding Canada, from Chevalier's longtime agent Jonny Geller of Curtis Brown.
Set in Winchester in 1932, A Single Thread follows Violet Speedwell, "an unmarried 'surplus woman' who decides to take charge of her own future". As the losses of the First World War are still keenly felt Violet is still in mourning for both her fiancé and her brother amd is regarded by society as unlikely to marry given the ratio of men to women. But she resolves not to subside graciously into spinsterhood, the synopsis reads.