News
Hilary Mantel: "We Still Work to a Man's Timetable and a Man's Agenda"
posted on 12 Mar 2018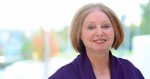 When Hilary Mantel was in law school in England, she started suffering terrible internal pains. No one took a young woman's agony particularly seriously, especially if it was situated uterus-adjacent. She went to visit a psychiatrist, who diagnosed the source of her anguish: It was stress, he said, caused by overambition. He wondered if law school was too taxing. Mightn't a dress shop be a better outlet for her talents?