News
At 80, Judy Blume Reflects On Feminism, #MeToo And Keeping Margaret 12
posted on 13 Feb 2018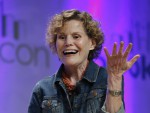 When author Judy Blume first broached topics like puberty and adolescent sexuality in her writing, it was long before those questions could be asked in a quick Google search.
Yet for those who read her now, her tales of adolescence remain modern – so much so that many of her young readers are surprised to learn Blume's books aren't brand new.
"They don't know that I wrote them generations ago. They think I wrote them yesterday for them, for the most part," Blume, who turns 80 on Monday, tells NPR's Rachel Martin.