News
The New Australian Children's Laureate Announced
posted on 12 Feb 2018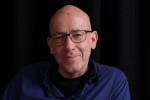 The Australian Children's Laureate website are absolutely thrilled to announce that Morris Gleitzman is the Australian Children's Laureate for 2018-2019.
The theme for Morris Gleitzman's two-year term will be Stories Make Us – Stories Create Our Future.
"Young people need stories more than ever," Morris says. "Stories to delight, stories to beguile, stories to inspire, stories to move deeply. And through these experiences, stories that equip young readers to embrace an often dark and uncertain world with optimism, resolve and creativity."
For more than 30 years Morris Gleitzman has written celebrated books for young people – sometimes serious, sometimes funny and sometimes confronting. His titles include Two Weeks With the Queen, Boy Overboard, Toad Rage and the acclaimed 'Felix' series beginning with Once. His books are published in more than 20 countries. In Australia they are published by Penguin Random House.
Read the full article on this link to the Australian Children's Laureate website