News
Green and Hardinge lead World Book Day YA selection
posted on 10 Jan 2018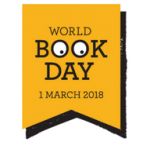 World Book Day has revealed its YA book titles for 2018, including novels by John Green, Frances Hardinge and Benjamin Zephaniah.
The list comprises Green's comic novel An Abundance of Katherines (Penguin Random House), Hardinge's 2005 fantasy title Fly by Night (Macmillan Children's Books) and Zephaniah's social drama Gangsta Rap (Bloomsbury). Completing the list are I Have No Secrets by Penny Joelson (Egmont), about a girl with cerebral palsy, and The Novice, a fantasy book by Taran Matharu and published by Hachette Children's Books.
The full-length books will be availble for £2.50 or £1.50 with a World Book Day token at participating retailers.