News
Having fled the Nazis, Elizabeth Friedlander created her own typeface before moving to Kinsale
posted on 06 Dec 2017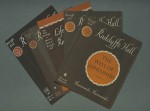 In the late 1930s, German designer and typographer Elizabeth Friedlander was asked to create a typeface by the Bauer Foundry in Frankfurt, a unique commission for a woman at the time.
However, Friedlander's achievement was overshadowed by political circumstances in Germany, as the Nazis rose to power.
The name of the font, originally Friedlander-Antiqua, was changed to Elizabeth-Antiqua, to avoid pointing to the creator's Jewish origin. As the type was being cast, the talented Friedlander, who had been employed as a graphic designer for the popular German magazine Die Dame, had to leave the country after she was refused permission to work.