News
From the myth of the Minotaur to the Hobbit and Dr No, where do stories come from – and who owns them?
posted on 13 Nov 2017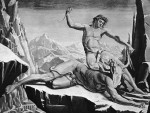 The notion of 'the author' is a recent invention – and perhaps already on the brink of extinction.  Andy Martin says there are three phases in the career of authorship: mythic, divine, and secular.